How to Gain a Massive Following on Instagram: 15 Proven Tactics To Grow Followers and Engagement: Part 1
Top 15 Instagram Growth Tactics
First 5 actionable ways to supercharge your follower growth on Instagram:
1. Post consistently (at least once a day)
2. Study and load up on quality hashtags
3. Share user generated content
4. Ask users to "tag a friend"
5. Use the right filters

1. Post consistently (at least once a day)
Social media analytics tool Quintly analyzed over 5,000 profiles in early 2015 to learn that the average Instagram account posts once per day.
More intriguing: Accounts with the highest number of fans tend to post a bit more than that–up to 2 or 3 photos per day on average. This data might allow us to say that "more successful" accounts tend to post with a higher frequency.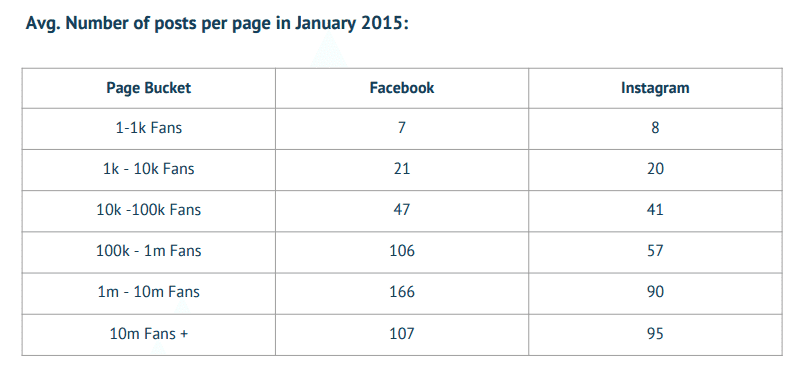 The key takeaway: Post often on Instagram. Brands that get in a regular flow with Instagram posts tend to see the best results.
Instagram is rolling out a Facebook-like algorithm based timeline and consistency feels like a key element to getting your posts seen and appearing at the top of the timeline. If your posts are shared on a regular basis and picking up good engagement, then our hunch is Instagram's algorithm may then determine this post should appear near the top of your follower's feeds.
2. Study and load up on quality hashtags
We've Facebook-like algorithm based timeline, but it seems that nowhere on social media are they quite as important as on Instagram. The right hashtags can expose your image to a large and targeted audience, and Instagram users don't seem to get hashtag fatigue in the same way they might on other networks. In other words, hashtags could be your best bet for growing a fast following on Instagram. Instagram allows for a maximum of 30 hashtags per post, and many power users max out this ability.
Which hashtags should you use?
It can be a little difficult to discover the right hashtags to add to your Instagram posts and I'd love to share a few tips with you here.
One method I use a lot is to look for hashtags on similar posts to mine. Here's how I do it in a few quick steps:
Add a couple of relevant and obvious hashtags to my photo before posting it.
Then I'll click through to search those hashtags and scroll through other, similar photos that share my hashtag to see what other tags those users have added that I might add, too.
Then I go back to my photo and edit it to add all the additional relevant hashtags I've found.
You can do this process in a more formalized way by searching and recording hashtags relevant to your brand, in a similar way you might do keyword research for a blog post. Brands are using hashtags to run unique campaigns as well —here's a look at just a few: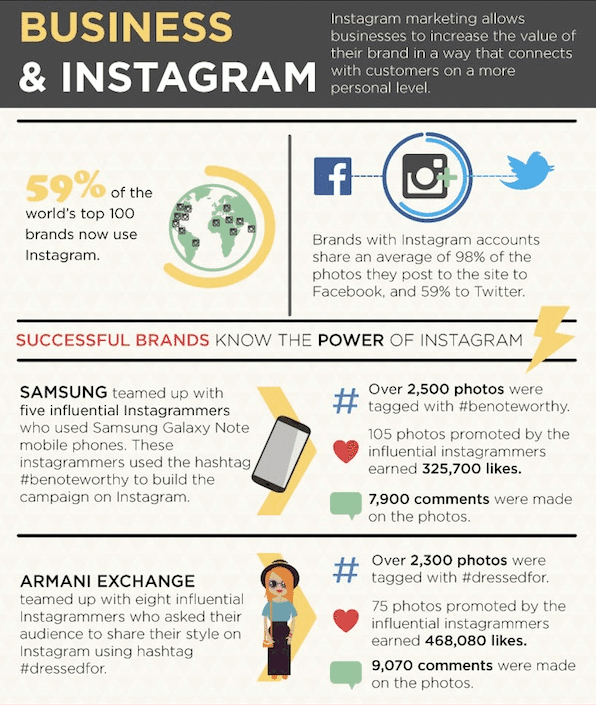 Another way to discover #hashtags is to check out the top 100 #hashtags

3. Share user generated content
In under 3 months, we grew our Instagram account by 60% – from 5,850 to 9,400 followers. And a large percentage of this growth was down to embracing and sharing user generated content.
The easiest way to think about user generated content is this: brands taking the best-of-the-best user content from around the web and featuring it on their own social media or other platforms while giving credit to the original creator (user).
4. Ask users to "tag a friend"
I recently got a great Instagram tip from some new local friends who helped me out with marketing a non-profit food tasting event. They shared a food photo from a past event and asked their 11,000 followers to comment and tag a friend they wanted to attend with. The response was awesome, and exposed our event to a lot of people who wouldn't have heard about it otherwise. I've seen this tactic work well for lots more than events, too.
5. Use the right filters
All those filters Instagram gives you to use aren't just fun—choosing the right ones can actually lead to more views and engagement. Researchers from Georgia Tech and Yahoo Labs analyzed millions of photos and corresponding data on how frequently they were viewed and commented upon to determine that filtered photos are 21% more likely to be viewed and 45% more likely to be commented on than unfiltered ones. What kind of filter works best? After examining five different types, researchers found that the top filters to increase chances of views and comments are those that create:
higher exposure
warm temperatures
higher contrast
Higher exposure was the most tied to more views, and warmth had the biggest correlation with comments. Two types of filters had negative correlations: Saturation correlated to slightly lower views, and age effects led to lower comments. Curalate has a great infographic with even more specific pointers on optimizing the look of your image for greater engagement: